Holiday Lighting Installation – Jupiter, FL
Whether it's the full moon effect of a summer's eve, an outdoor dinner party or the light up the season joy of Christmas time, we are the experts and the artists who make magic happen every day.
Turn your home into a Holiday Spectacular with the insured and bonded creative artists and engineers at PB Lighting, LLC in Jupiter, FL.
For 11 years, we have created custom designed indoor and outdoor Christmas displays that are professionally installed, removed, and stored in our warehouse – all to take the added hassle out of the holidays.
Christmas Lighting Installation - Jupiter, FL
Putting up Christmas Lights spark undeniable feelings of coziness, warmth, and holiday cheer in every home. You and your family can enjoy the happy feelings that come along in seeing the decorative lights. Deciding which lights to install in your home can be tricky. Christmas lights are made up of various materials and diverse technology. Whether they are twinkling lights, holiday lights, fairy lights, mini lights, or any decorative holiday lights, you have a lot of options to consider.
We understand that people get that warm feeling when they see decorative lights around them. Lighting systems have adorned the houses, buildings, offices, streets, and parks for a long time, and it will not go away any time soon. That's why our team strives hard to help our clients in making their decision on what type of decorative lights are suitable for their homes, offices, or properties.
Sometimes, the holiday rush can leave you a bit feeling overwhelmed and exhausted, especially during the Christmas season. At PB Lighting, LLC, we will provide your home or establishment with the right set of lighting systems suitable for the season or occasion. We will install the lights through the assistance of our licensed and experienced technicians as well as restore the decorations after the holidays. This way a heavy load is taken off your back so you can enjoy more of the holidays with your loved ones under the beautiful scenery of night holiday lights.
We take into consideration the clients requests, goals, and vision to achieve their dream ambiance. We note down your preferences and give you options and advice on what is the most appropriate set of lighting system for their property. We help create beautiful outdoors, patios, garden, exteriors and many more so you can enjoy more of your home and share it with your loved ones, too.
Client Reviews
Amazing! Contacted Jeremie and after sending him a few photos of my house, he gave me a very competitive quote so I booked an appointment right away. On installation day, they came on time and finished hanging up the lights quickly. The results were amazing--beautifully wrapped palm trees and icicles along the roof of the house. We got a small section of lights on one of the palm trees go out a few days later and Jeremie came out the same day I contacted him and fixed it. I'm so impressed and will definitely be a repeat customer. - Michele Aaron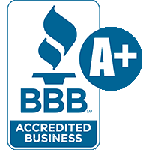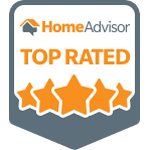 The initial visit we will walk through the property together. We will discuss the scale & scope of the project; gather contact information, take pictures/videos of the property and locations of accessible power in order to create a lighting design that is best suited for you.
Following this, a proposal will be presented via email with details explained enabling you to make a decision to move forward with the installation. Once a decision has been made and a deposit has been received, a clear outline will be presented, as well as a start & completion date.
All warranties will be available in writing. Also we will offer recommendation for maintenance or service to upkeep the system, once it is installed.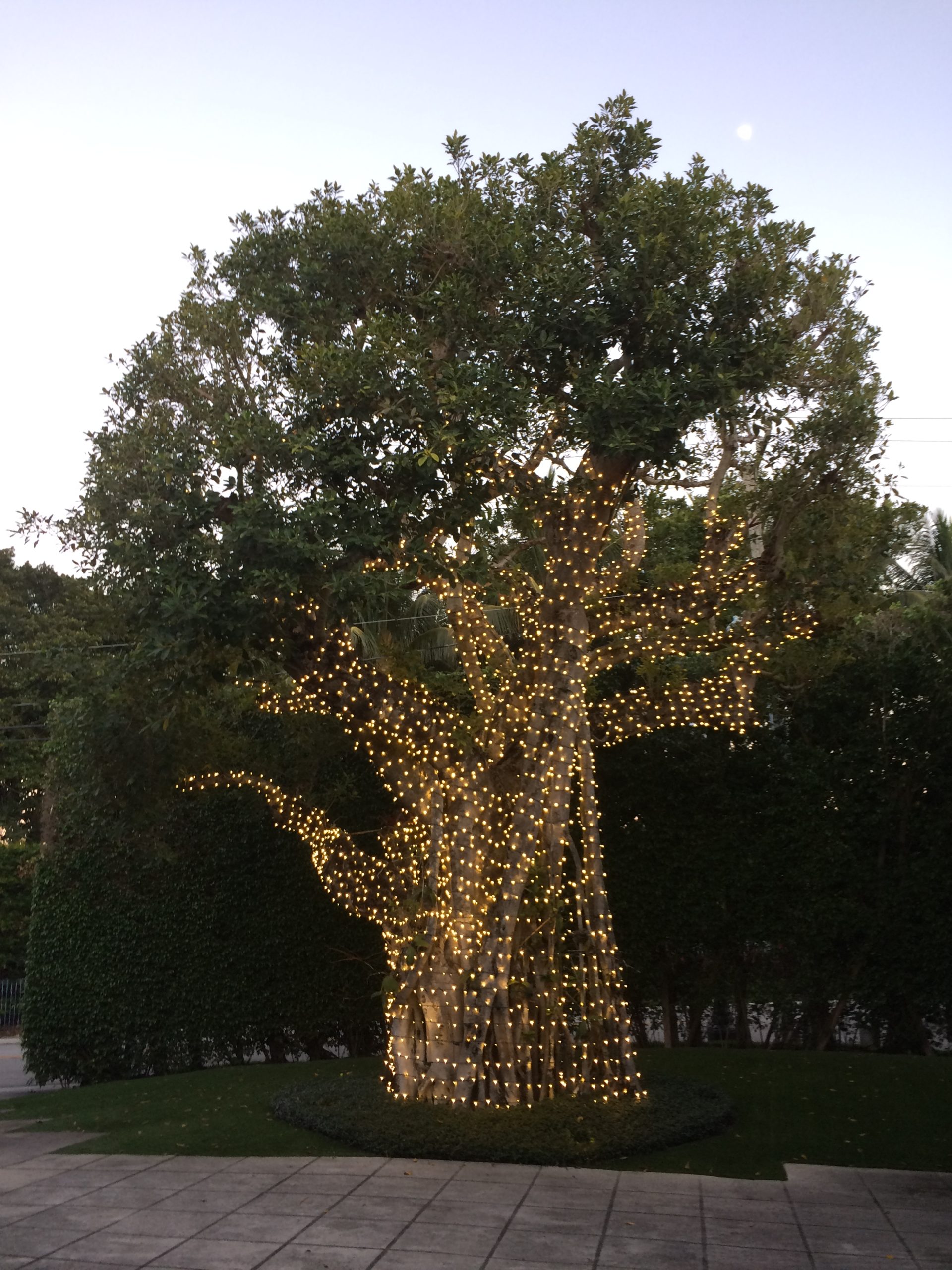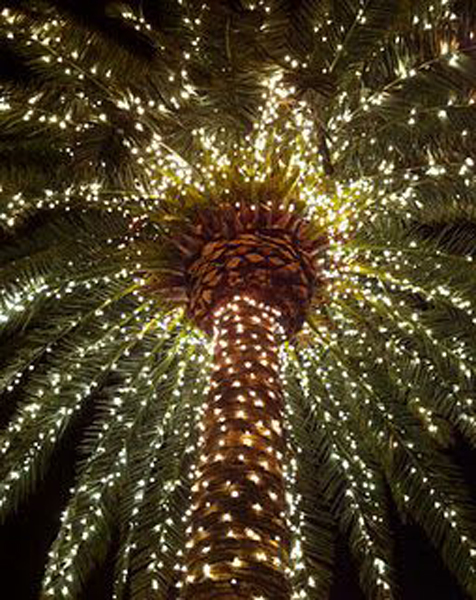 Our average home projects are $2,500 – $5000, we also do installations for commercial properties
We customize designs for each project
Energy & Cost Efficient :
LED lights are 90% more efficient than Halogen Lamps
Lower utility bills
Reduced carbon emissions
Less waste created from the disposal of burnt-out bulbs as LED Bulbs typically last up to 50,000 hours!
Less insect Activity :
Halogen light bulbs emit UV light, which attracts insects. With LED lights, you can potentially decrease insect activity on your property.
Low Voltage :
Operates safely in wet locations
Safe and less disruptive to install
Safe for use where children and pets play, dig, and chew
Cable does not need to be in conduit
Easy relocation of fixtures, when rearranging landscaping or making home improvements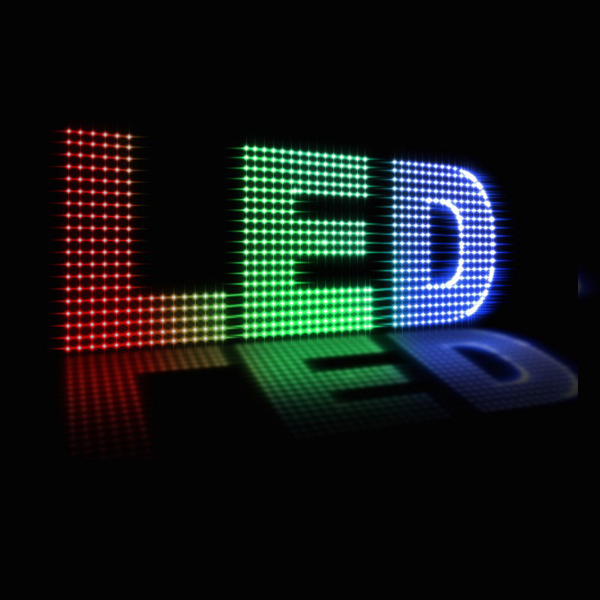 With Low Voltage LED Landscape Lighting your'e truly making the most of your beautiful property in so many ways!  Being able to enjoy your landscaping safely at night while adding a degree of home security and utilizing the most efficient power saving technology on the market.  Not to mention the longest lasting bulbs, making the maintenance of the system much more cost effective.
Why should I consider a holiday lighting professional?
Our lighting experts are professionally trained to install and maintain a variety of different types of low voltage systems, but more importantly to assist the home or business owner in completing their specific lighting objectives. We will help in all aspects from planning, design, installation, and maintenance with a high level of professionalism.
Will installation of one of your systems harm my yard?
PB Lighting, LLC is completely conscious of our customers needs and make sure that all the work is done by hand. We remain conscious of utilities and irrigation that could potentially cause problems.
Hours
Monday - Friday: 7:00AM - 5:00PM